We recently launched our bilingual Live Chat feature with the goal of enhancing the claims and customer service experience for our dealer partners.
Since then, Live Chat has been widely adopted by LGM's dealer network because it saves time.
HUB support is provided quickly
Contract and coverage questions are addressed in real-time
Cancellation quotes and amendments are finalized within first contact
Claims amendments and support are provided within first contact
Documents, images, and screenshots can be loaded directly into the feature – eliminating the need to email us
Success by the numbers
Today, Live Chat outperforms all other channels both in speed and overall satisfaction boasting some impressive stats:
Average initial response to customers is now nearing 60 seconds or less
Response resolution is minimum 50% faster than email
Dealer satisfaction averages 5/5 across all Live Chat touchpoints
How does it work?
Found at the bottom left of the HUB, our chatbot CLEO first gathers and authenticates dealer information before passing it on to an experienced Live Chat agent. From there, the agent can jump right into the conversation providing a faster, and highly personalized journey for dealers.
The tool also works seamlessly with our Dealership Knowledge Base – allowing for frequently asked questions to be responded to outside our contact center hours.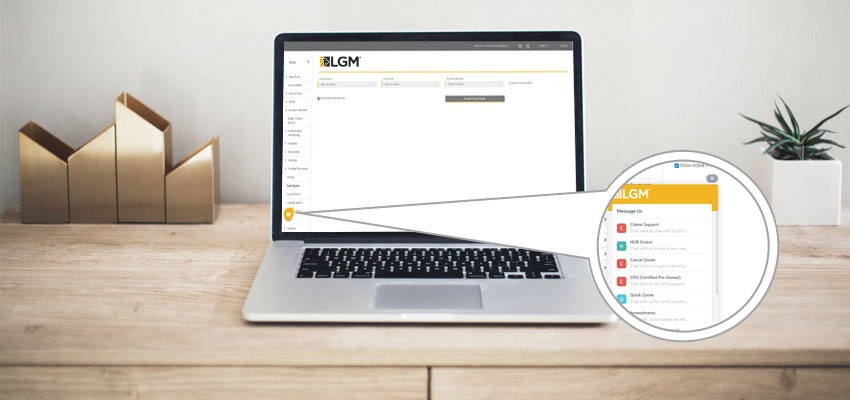 Questions about Live Chat?
If you are a dealer partner with questions about where to find out how to use the Live Chat feature, please contact your Dealer Development Manager for support.
Watch for more updates later this year
Live Chat marks a giant leap in dealer experience – but we have more digital innovation planned. Follow LGM on LinkedIn for announcements on great new features and enhancements to make F&I easier.