Canadians have faced many unprecedented financial hurdles over the last several years. Unfortunately, financial anxiety levels remain high amongst Canadians, most recently being tied to job stability. All industries, but notably the tech industry, have been laying off many Canadian employees since the beginning of 2023.
Unfortunately, with so many Canadians losing their jobs, now more than ever, car owners need to consider how they will be able to meet their vehicle loan commitments in the event they become unemployed. As car dealers, it's important to anticipate that consumers may have worries about their job security, and as such, they should receive relevant finance and insurance (F&I) presentations to help ease their anxieties and provide protection opportunities to their car payments if they lose their job.
In this article, we will equip Financial Services Managers with answers to these questions:

What are the financial implications associated with job loss?
For the average single Canadian, the monthly cost of living is $1,708. That number jumps to $3,911 per month when considering an average family of four. In the event of job loss, income will be cut significantly, even after receiving some form of governmental employment insurance (EI).
On top of regular bills and payments, job loss means that the former employee will need to dedicate a lot of time and effort into trying to secure another role. A car becomes a life preserver that helps someone get to all the interviews and appointments that are critical within this period. Financial Services Managers can help their customers understand this risk, so they can make an informed decision on how to protect themselves from the unstable job market.
This timely infographic can be incorporated into an F&I presentation to help with this visualization: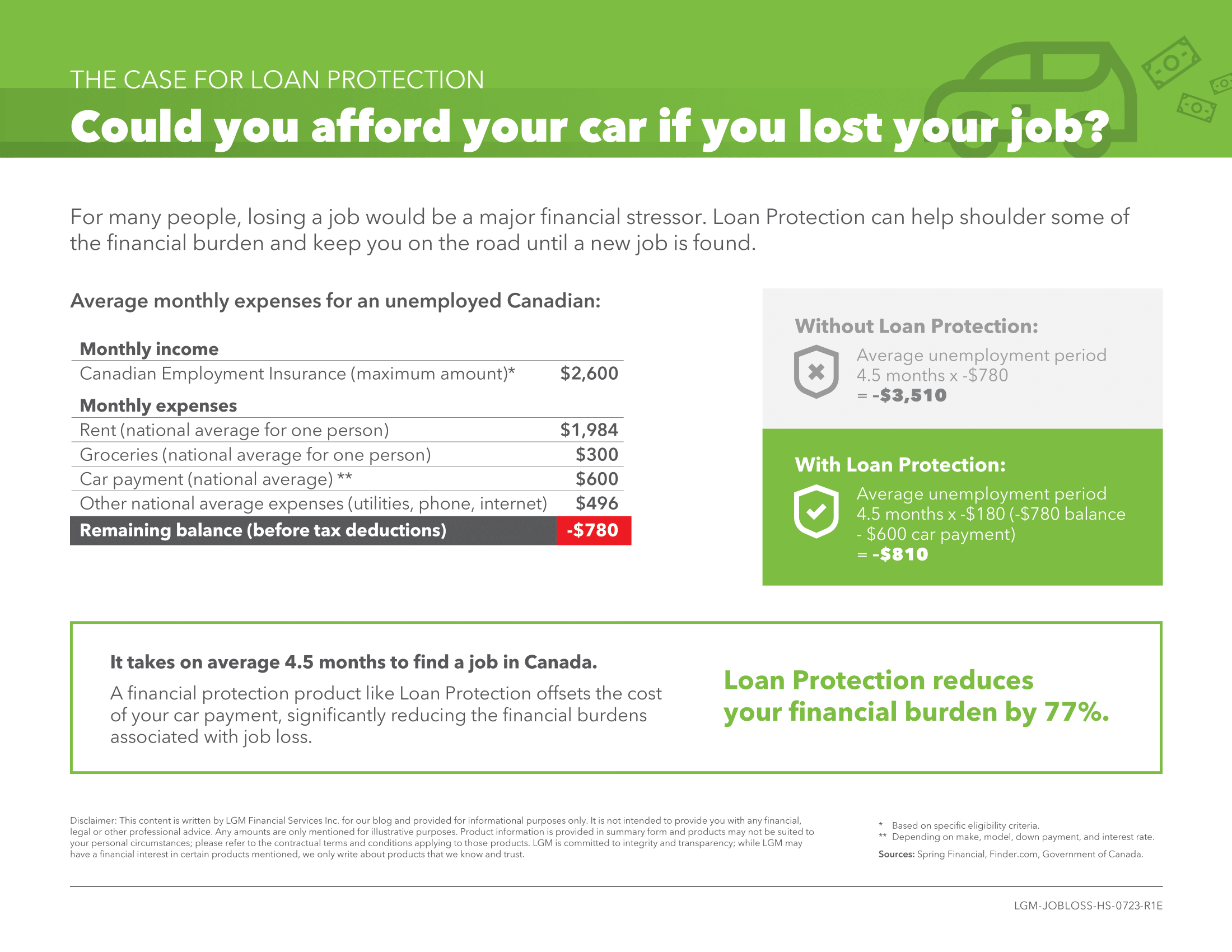 Click here to download the infographic for free. 
How to help your customers protect themselves from these financial implications: Car loan protection.
It's an unfortunate fact that if the loan holder loses their job, they're still liable for their car loan payments.
Loan Protection, an F&I protection product, covers the customer's car loan payments if they lose their job. This type of protection has many benefits for the customer, including:
Delivering peace of mind knowing that their car loan payments will be paid if they lose their job;
Offering protection to their personal savings, investments, and credit ratings; and
Ensuring the value of other insurance policies that they may hold is maintained.
How Financial Services Managers can help the customer visualize their finances breaking down in the event of job loss: Income Table for Job Loss.
According to LGM's team of F&I experts, car owners often don't know the financial obligations that they are liable for in the event of job loss, and while the risk of job loss happening is always there, in the current unstable job market, many Canadians are increasingly at risk and increasingly unable to afford their expenses.
This is why car loan protection is ever important. As part of their typical F&I presentation, we recommend that Financial Services Managers incorporate a visualization tool, so their customers can see exactly how their finances will break down with job loss. That's where our useful Income Table for Job Loss tool can come in handy.
Financial Services Managers can download Income Table for Job Loss in Canada for FREE to help build a personalized case for why the customer would benefit from protecting their car loan.
Click here to download the Income Table for free. 
After completing the needs assessment and using the income table available above, the Financial Services Manager will be able to help the customer visualize their financial standing and can offer them a timely and personalized F&I presentation.
If you need any support with using this table, please don't hesitate to reach out to us at Sales@LGM.ca or contact your local LGM Dealer Development Manager (DDM).

---
Disclaimer: The content for our blog is written by LGM Financial Services Inc. and provided for informational purposes only. While we want to provide you with valuable insights into vehicles, protection products and related topics, none of the information posted in our blog is intended to provide you with any mechanical, financial, legal or other professional advice. LGM disclaims all liability related to our blog and provides posts on an "as is" basis; we may reference third-party sources of information and we always strive for accuracy. Any amounts are only mentioned for illustrative purposes. Product information is provided in summary form and products may not be suited to your personal circumstances; please refer to the contractual terms and conditions applying to those products. LGM is committed to integrity and transparency; while LGM may have a financial interest in certain products mentioned in our blog, we only write about products that we know and trust. Thanks for reading!