Today, automobiles are highly controlled by computer technology. In fact, a single vehicle can have anywhere from thirty to one hundred computers powering it.
While technology continues to advance in the automotive industry, showrooms are increasingly filled with zero-emissions vehicles (ZEVs), self-driving cars, connected cars, and other leading-edge models.
A crucial technological component in a modern vehicle is the In-Vehicle Infotainment system (IVI). IVI systems depend on electronic software and computer data, which can be quite costly. Some recent reports forecast that "the car's electronics as a percentage of its total cost may rise to about 50% in 2030 up from 35% in 2020". With the proper finance and insurance (F&I) products, your customers can be assured that if their IVI system fails, costly repair bills won't fall on them.
In this guide, we will help you address the following common customer questions about In-Vehicle Infotainment:
How to answer your customers' questions: 
1. What is the In-Vehicle Infotainment (IVI) system?
An In-Vehicle Infotainment (IVI) system "refers to vehicle systems that combine entertainment and information delivery to drivers and passengers". With computer technology, the IVI system controls many functions in the vehicle and helps create the modern driving experience that we all enjoy today.
2. Why is the In-Vehicle Infotainment (IVI) system so important?
In-Vehicle Infotainment systems are critical for vehicle performance. To understand its importance, you can think of the IVI system as being the brain of the vehicle, and that without it, the vehicle's components would not be able to communicate with one another and the vehicle may not be able to operate to its full potential.
The infographic below illustrates many of the functions that are controlled by an automotive infotainment/IVI system.
Click here to download the infographic to understand the importance of the In-Vehicle Infotainment system.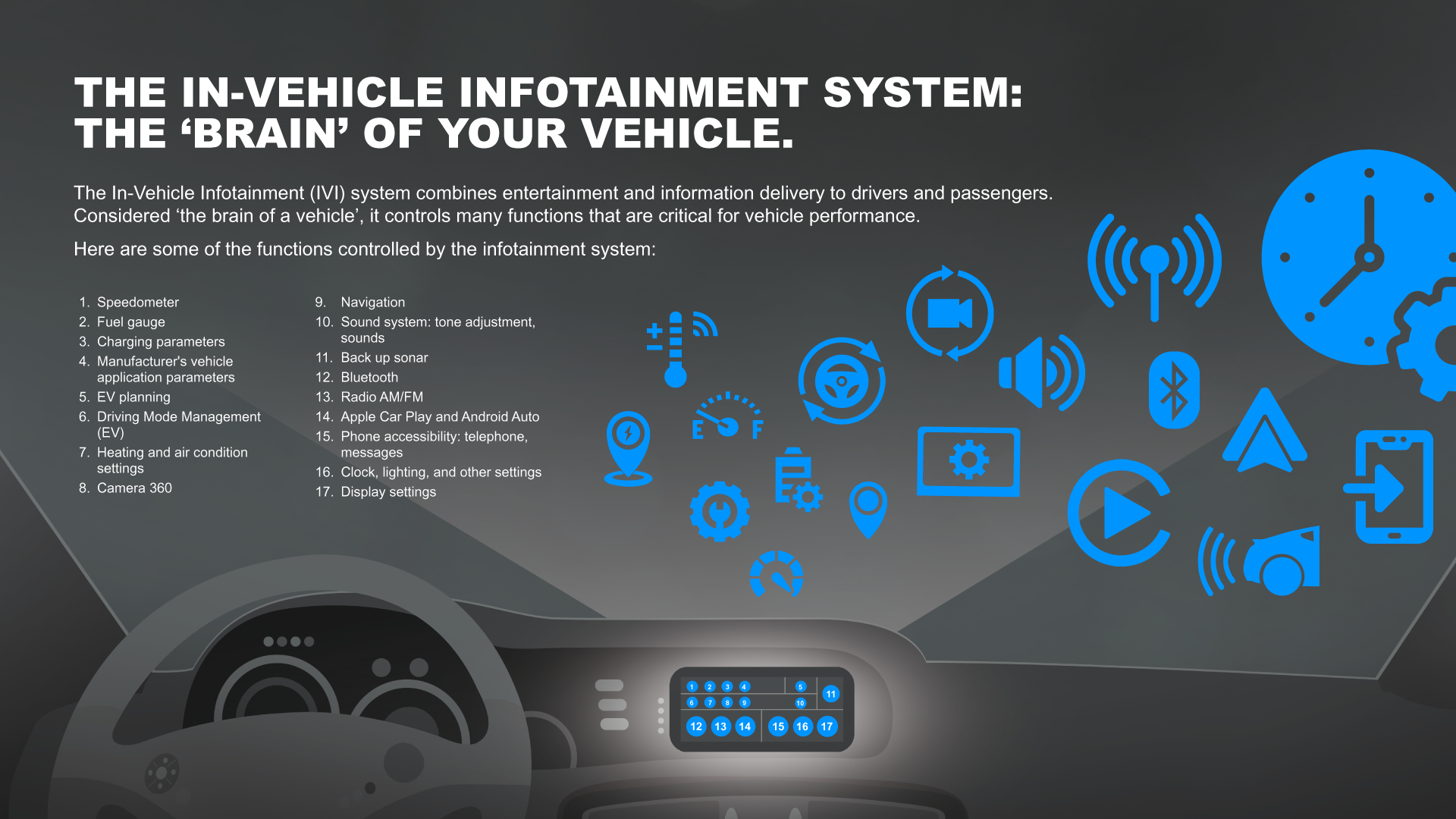 3. What happens if the In-Vehicle Infotainment (IVI) system fails?
It can be very costly to repair the in-vehicle infotainment system because it controls so many crucial vehicle components which could render the vehicle inoperable if a system failure were to occur.
According to an LGM technical claims expert, a failed IVI system can cost anywhere from $2,000 to $6,000 depending on the part that has failed, and the make and model of the car.  The likelihood of an IVI system failure is difficult to predict, but it does increase with a vehicle's age and usage.
4. How can I stay protected from expensive In-Vehicle Infotainment (IVI) system repair costs?  
IVI system failures are most common in older vehicles, and since the original manufacturer's warranty on those vehicles has likely expired, those unlucky vehicle owners will have to pay out of pocket for any repairs.
However, with Mechanical Breakdown Protection (MBP), a convenient extended car warranty product that commences once the original manufacturer's warranty has expired, your dealership customers can drive away stress-free knowing their wallet is protected from costly IVI system repairs.
Questions?
Click the link to learn more about SecureDrive MBP and other SecureDrive products or contact your local LGM Dealer Development Manager (DDM).