Ottawa, ON (June 21, 2018) – LGM Financial Services presented a $20,000 cheque to the Traffic Injury Research Foundation (TIRF) yesterday, a road safety research institute and charitable organization committed to reducing traffic related deaths and injuries. This donation is a direct result of the annual Auto Dealers Against Distracted Driving campaign, a month-long initiative to combat driver inattention.
The official goal for the 2018 campaign was two-fold: to educate and raise awareness of the dangers of distracted driving, and to encourage behavioural change by collecting 20,000 pledges from drivers committed to safe driving habits.
The Auto Dealers Against Distracted Driving campaign is organized by LGM Financial Services, a leading provider of OEM-branded automotive finance and insurance products with a network of dealer partners across Canada. LGM committed to donating $1 per-pledge – up to the campaign goal – towards education and research on road safety.
Driver distraction is a factor in roughly 4 million motor vehicle crashes in North America each year (RCMP, 2014), and Canadians say that texting while driving is one of the biggest threats to their personal safety on the road (CAA, 2016).
"Distracted driving is a top priority for the Traffic Injury Research Foundation (TIRF). The incredible leadership of dealerships across Canada to raise awareness is extremely important to address this problem," says Robyn Robertson, TIRF President & CEO. "This generous donation from LGM Financial Services will enable TIRF to expand our charitable services and help more communities reduce the number of distracted drivers on their roads."
In March alone, dealers across Canada raised 27, 850+ pledges against Distracted Driving.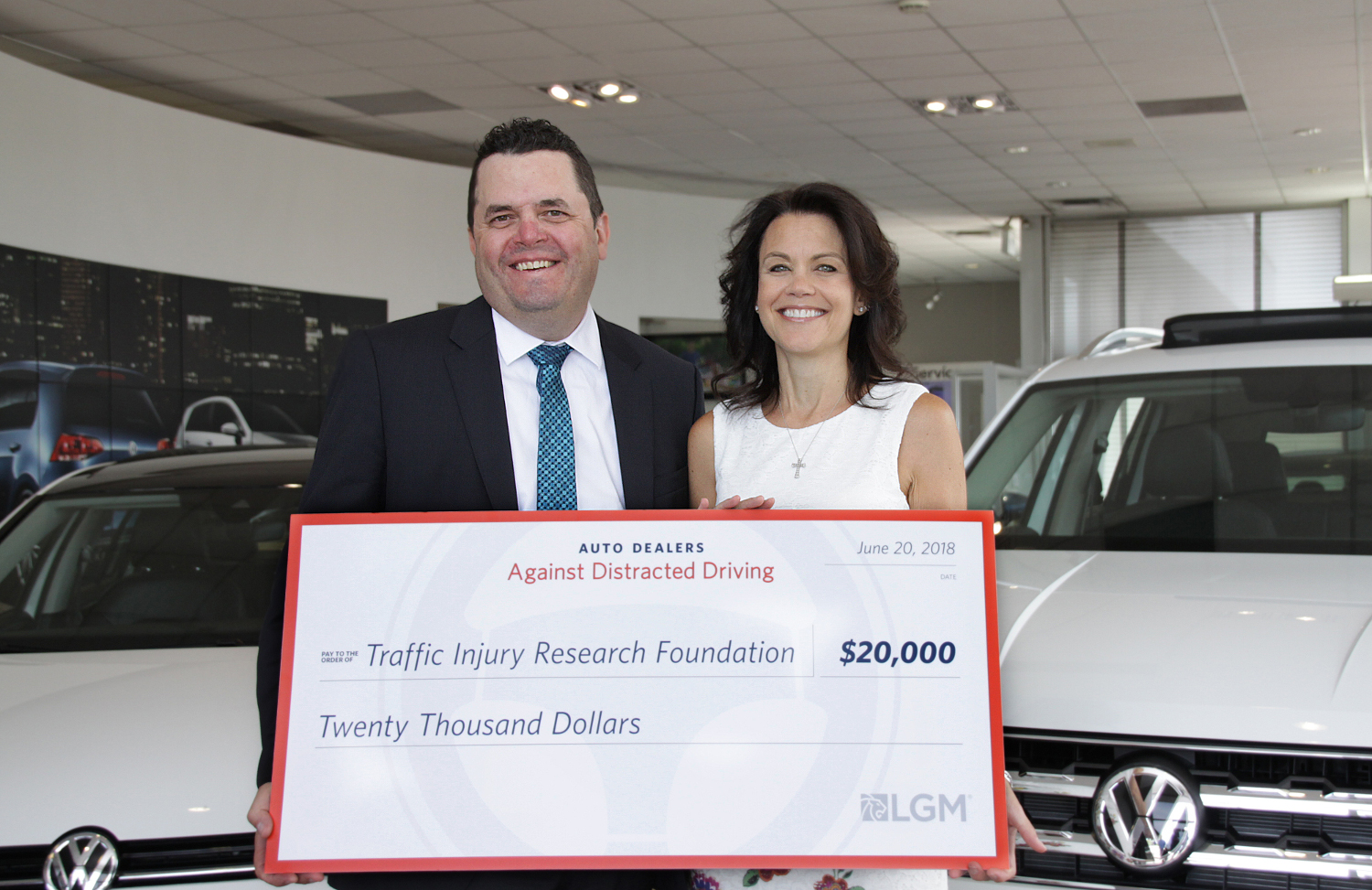 Pictured: Marc-Andre Lefebvre, Vice President, Sales – Quebec, LGM presenting a cheque on behalf of LGM to Robyn Robertson, President & CEO, TIRF.
Hunt Club Volkswagen's campaign efforts resulted in the largest number of pledges per dealership in campaign history, with a notable 4,283 pledges against distracted driving. This impressive campaign record represents their success in actively engaging their community to pledge both online and in the dealership.
"This year's campaign focused on engaging dealers across Canada to encourage Canadians to practice safe driving habits, and to eradicate the belief that it's possible to multi-task safely behind the wheel," says Chris Featherstone, Dealer Development Manager, LGM Financial Services. "LGM is thrilled that Hunt Club Volkswagen's values align with ours and that we were able to work closely together on this important initiative."
"In hand with dealerships across Canada, Hunt Club Volkswagen banded together with our customers and community to take a stand against distracted driving," says Allyson Bell, General Manager, Hunt Club Volkswagen. "We're passionate about making our roads safer for our customers by decreasing the amount of distracted drivers on the road. We really enjoyed participating in this campaign, and believe we made a difference in our community by raising awareness of the dangers of distracted driving."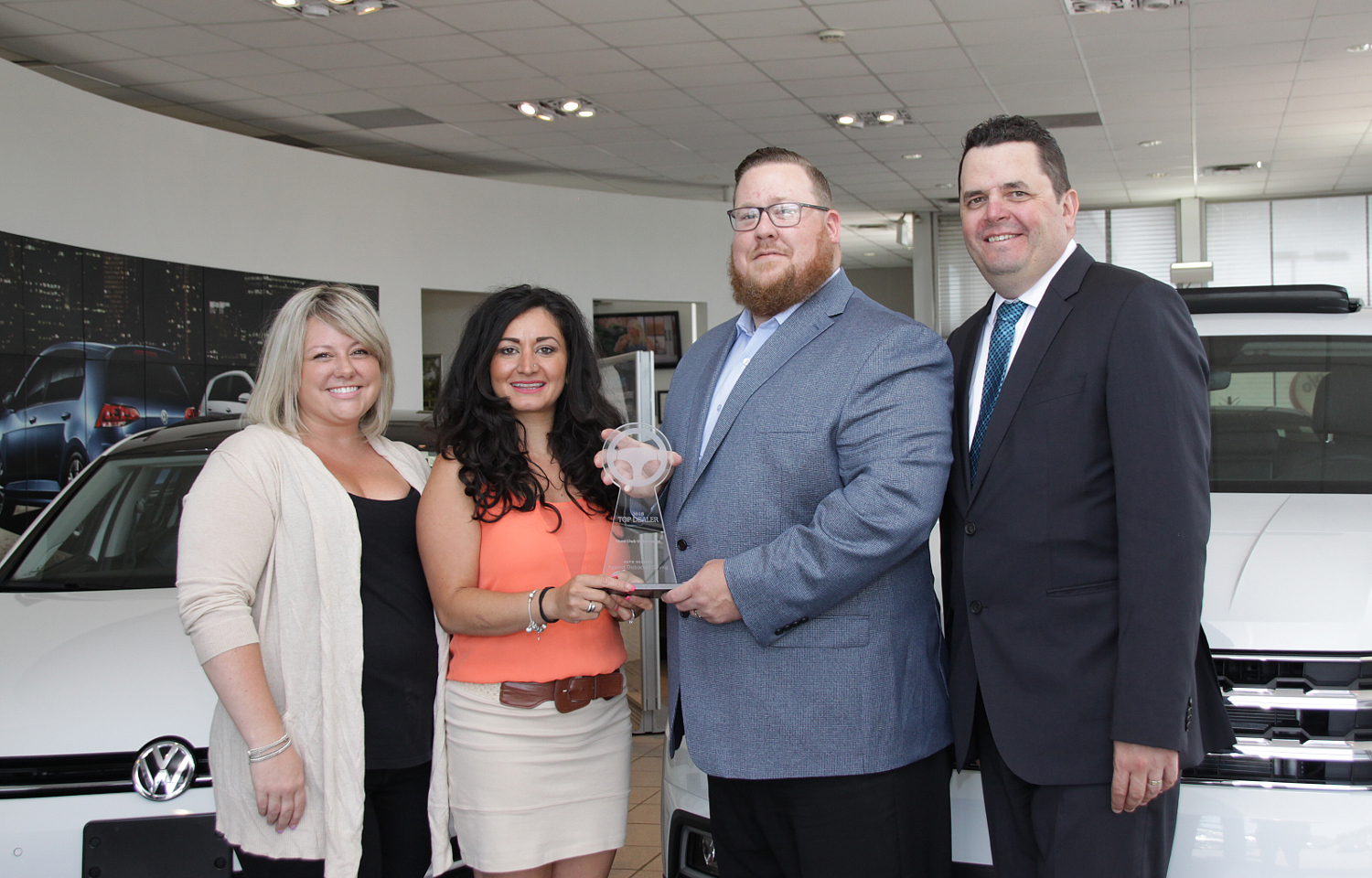 Pictured: Kelley McMurray and Sabrina Ouellette from HuntClub Volkswagen, receiving their Top Dealer award from Chris Featherstone, Dealer Development Manager, and Marc-Andre Lefebvre, VP, Sales – Quebec, on behalf of LGM,
The campaign is generously supported by The Co-operators, The Sovereign General Insurance Company, Canadian AutoWorld, Canadian Autojournal and Autosphere.ca.
Media contact:
Stephanie Day
Communications Specialist
LGM Financial Services
E: Stephanie.Day@lgm.ca
P: 604-806-5304
ABOUT LGM FINANCIAL SERVICES
LGM Financial Services has been a leader in Canada's automotive industry since 1998 by supplying branded warranty, finance and insurance products to distinguished automotive manufacturers and dealers across the country. Driven by innovation and service excellence, LGM is focused on maximizing dealership performance and customer satisfaction through products that are backed by an elite F&I sales and training program, and a comprehensive claims and dealer support network. Learn more at LGM.ca
ABOUT HUNT CLUB VOLKSWAGEN
Hunt Club Volkswagen is your premier retailer for Volkswagen vehicles. Serving Ottawa since 1992, Hunt Club Volkswagen is Ottawa's only independent Volkswagen Dealer. This means our only focus is on Volkswagens and Volkswagen customers like you. Our dedicated service, parts and sales staff are here to make your automotive experience special. We are very proud of our achievements and awards over the last 25 years. We are committed to giving the same great service to our present and future customers. Learn more at HuntClubVW.com.
ABOUT THE TRAFFIC INJURY RESEARCH FOUNDATION
The mission of the Traffic Injury Research Foundation (TIRF) is to reduce traffic-related deaths and injuries. TIRF is an independent, charitable road safety research institute. Since its inception in 1964, TIRF has become internationally recognized for its accomplishments in identifying the causes of road crashes and developing programs and policies to address them effectively.