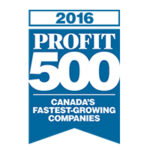 Vancouver, BC (September 15, 2016) – Canadian Business and PROFIT today ranked LGM Financial Services No. 336 on the 28th annual PROFIT 500, the definitive ranking of Canada's Fastest-Growing Companies. Published in the October issue of Canadian Business and at PROFITguide.com, the PROFIT 500 ranks Canadian businesses by their five-year revenue growth.
LGM Financial Services made the 2016 PROFIT 500 list with five-year revenue growth of 157%.
"Companies become a part of the PROFIT 500 through innovative thinking, smart strategy and sheer grit," says James Cowan, Editor-in-chief of PROFIT and Canadian Business. "These firms demonstrate what Canadian entrepreneurs can achieve, both at home and across the globe."
"We're excited and honoured to have secured a coveted spot on the PROFIT 500 ranking for another year," says LGM founder and CEO, Adam Hill. "This achievement is first and foremost a testament to the dedicated people at LGM who deliver the highest quality of service to our partners. It also confirms that the expertise we provide and the products we design resonate strongly with our customers."
A leading provider of best-in-class automotive F&I products, LGM represents the most OEM branded product solutions in Canada. Driven by a vision to revolutionize the consumer ownership experience, LGM combines a consultative sales approach with a strong commitment to service excellence, and an unmatched understanding of market trends and consumer buying habits.
Read more on LGM.ca or follow @LGMCanada on Twitter.
Media Contact:
Amanda Brkich
Manager, Marketing & Communications
LGM Financial Services
E: Amanda.Brkich@LGM.ca
P: 604-676-3881
ABOUT LGM FINANCIAL SERVICES INC.
Since 1998, LGM Financial Services Inc. has been a leader in Canada's automotive industry by supplying branded warranty, finance and insurance products to distinguished automotive manufacturers across the country. Driven by innovation and service excellence, LGM is focused on maximizing dealership performance and customer satisfaction through products that are backed by an elite F&I sales training program, and a comprehensive claims and dealer support network. Read more at LGM.ca.
ABOUT PROFIT AND PROFITGUIDE.COM
PROFIT: Your Guide to Business Success is Canada's preeminent media brand dedicated to the management issues and opportunities facing small and mid-sized businesses. For 34 years, Canadian entrepreneurs across a vast array of economic sectors have remained loyal to PROFIT because it's a timely and reliable source of actionable information that helps them achieve business success and get the recognition they deserve for generating positive economic and social change. Visit PROFIT online at PROFITguide.com.
ABOUT CANADIAN BUSINESS
Founded in 1928, Canadian Business is the longest-serving, best-selling and most-trusted business publication in the country. With a total brand readership of more than 1.1 million, it is the country's premier media brand for executives and senior business leaders. It fuels the success of Canada's business elite with a focus on the things that matter most: leadership, innovation, business strategy and management tactics. We provide concrete examples of business achievement, thought-provoking analysis and compelling storytelling, all in an elegant package with bold graphics and great photography. Canadian Business—what leadership looks like.